I am so excited to share with you some thoughts and happenings related to this beautiful Oasis Mandala Baby Blanket along with some information about this CAL.
I was so happy when Katia asked me if I want to design a blanket for this CAL, you can not imagine! I was really jumping around like a child. Why? First because I just love their yarn, second , and I won't lie, because it is a great opportunity for me as a designer to make my work known. Even if you make this like a business or simply like a hobby or both, we all want that our hard work to be seen and appreciated.
It took me a while to accept that this is what I want to do, to be a crochet and knit designer, because at first I wasn't that proud about this, being a house mum, surrounded by yarn almost all day long. Then, after my makes started to be seen and more and more people showed interest for my designs, I started to feel more like me!
photo credit katia.com
And now, this is happening! I am the designer behind this beautiful Oasis Mandala Blanket and every time I see a photo with it I can't believe that I made this 😅😅.
Believe it or not, this is the first blanket that I ever made and design, but for sure it won't be the last. I was telling you at the beginning, that I was super happy when Katia asked me to design this blanket, well my excitement lasted for a few minutes, because soon after that I became anxious about this project and if I will be able to design something that people will want to make. I was so anxious that this Oasis Mandala was actually my third try, which was knew to me.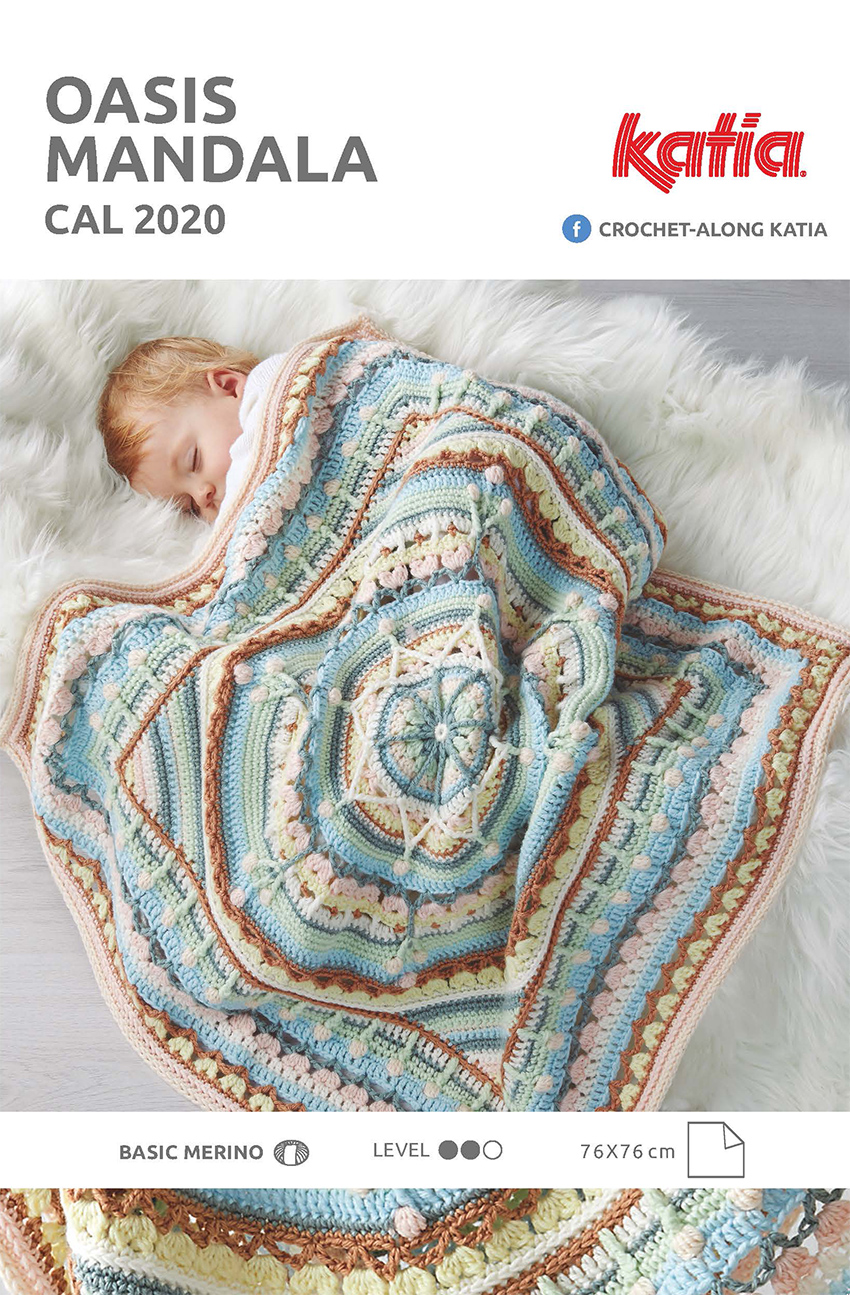 photo credit katia.com
Yep, after 2 failed attempts I was ready to give up and I remember how I just took one ball of yarn and the hook and starting to work something. Already I no longer thought that I would succeed in completing this project. I didn't looked ahead, didn't plan what stitch pattern I will use or which color. Everything came from my heart and with every round I was amazed about what was coming out.
This blanket has in it a lot of my fears, but also of my joy and passion. It was "born" from me as a failed person and by the time I was finishing it, I was an enthusiast and optimist. That's why this blanket represents a lot for me. It was my therapy and this was the most important thing that I won during the making process. With it I leaned that this crochet thing is more then a hobby or business, is my balance, is my medicine is my way to happiness and fulfillment.
Because of what I experienced while making this Oasis Mandala Blanket and because I want you all to experience the incredible sensation of creating something spectacular with your own hands, I encourage you to join Katia Crochet-Along group on Facebook because there is where this crochet pattern will be shared.
You may find this blanket difficult to make, but you will see that all the rounds are in basic stitches or variations of a basic stitch and it will be a great project to improve your crochet skills and learn new stitches.
The Oasis Mandala CAL will start first week of April and the kits are available during the month of March in Katia Shops and Katia.com.
The Oasis Mandala Kit was prepared with care by AMPANS, an entity that supports people with intellectual disabilities or in situations of vulnerability. The kit includes the yarn you will need to make this beautiful blanket and information about where, when and how to join the CAL. You will also need a 4 mm / G6 (US) crochet hook, 8 stitch markers, a wool sewing needle and scissors.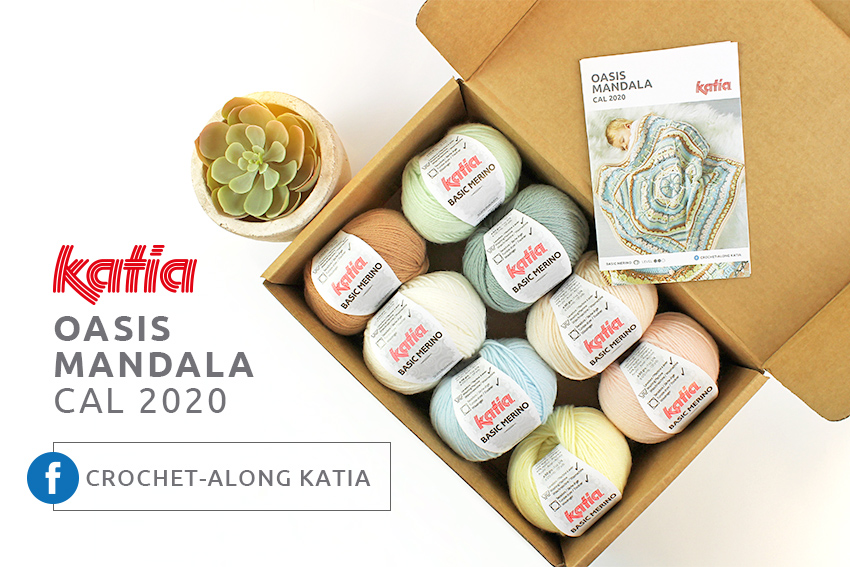 photo credit katia.com
If you want one more reason to join this CAL, well at the end of it, Katia will have a giveaway between all the participants who made their baby blanket with the Oasis Mandala Kit. What's the prize? 3 kits of Katia yarns for making their next CAL. To enter the prize giveaway you only have to share an image of your blaket with the group.
And because I just mentioned the word Giveaway, go check my Facebook Page and Instagram Account, because starting with Today and until 21st of March you can enter and win one Oasis Mandala Kit sponsored by Katia.
And with all these being said, thank you for reading this and can't wait to see your Oasis Mandala Blankets and to read your thoughts about it!!